Welcome to the Rio Santiago Nature Resort! We are proud to be the highlight of your Honduras vacation, with tropical bird watching, rain forest adventures, and a personalized bed and breakfast atmosphere, all adjacent to the pristine, 280,000 acre Pico Bonito National Park. Our property is flanked by the stunningly scenic Santiago River, and four crystalline mountain streams tumble over waterfalls through a private nature preserve of over 150 acres. A wide range of on and off-site activities make Rio Santiago a paradise for families, nature lovers, bird watchers, and eco-travelers. Our first group of cabins has been completed with more in the planning stage.
We are eager to share with you the beauty of Honduras, and will respond to all requests within 2 business days.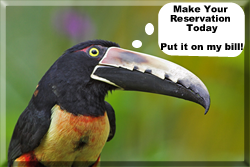 Take a break from the stress of everyday life and get back to nature at the Rio Santiago Nature Resort, hummingbird capital of Central America. Nestled in the rainforest, 600 feet above sea level and bordering the Pico Bonito National Park it is one of the newest and most beautiful eco-resort sites in Honduras.
CALL +504 2449-0870 or