White Water Rafting the Rio Cangrejal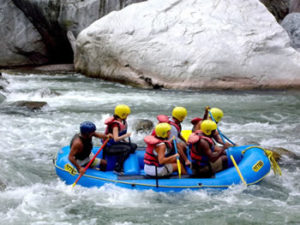 A world-class whitewater rafting destination, the Rio Cangrejal offers adrenaline and the rain forest majesty at once.
Originating deep within the forested peaks of the Pico Bonito National Park, and running down to the Caribbean, this 20-mile river passes through boulder strewn gorges and scenic canyons with exciting rapids ranging from class II to IV. While rafting and water levels are best from September to February (the rainier season), the river is extraordinary year-round. A river side snack and a rain forest hike to the towering "El Bejuco" waterfall are a part of each trip.
Rio Santiago offers guided, expert whitewater rafting trips down The Rio Cangrejal, and uses only the safest equipment and the most experienced local guides. Safety is our priority.
As rainfall and river levels can vary according to season, this adventure may have breaks in the whitewater action, with more opportunities for swimming and boulder jumping along the river's edge.
Whitewater Rafting trips leave Rio Santiago at 7:00 AM and generally return by 3:00 PM. We can also arrange kayaks for experienced whitewater paddlers.